En español
Philippians (Filipenses)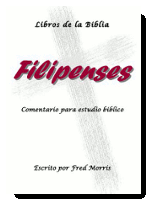 Philippians is a letter of joy and encouragement written by Paul from prison in Rome. He expresses his affection for the Philippians, appreciates their consistent testimony and support, and lovingly urges them to focus their actions and thoughts on the pursuit of the power of Christ.
Sharing the Gospel is a work of obedience. As we tell people the good news about Jesus, the Holy Spirit will fill us with a joy that lasts and can be shared with others.
Believer's need to be humble and think like Christ, who humbled Himself in His suffering and death for us, not only to satisfy God's justice, but to set us an example that we might follow.
The believer's strength, joy, and peace come from knowing Jesus. Paul never stopped trying to know Jesus better and neither should we. Jesus has promised He will always be with us especially when we have worries or troubles. He asks us to share with Him all our needs and to do it with thanksgiving. As we learn to trust Him, God's special peace will fill us.
When you disagree with a commentary, remember that God's Word, the Bible, supercedes any and all other commentaries.
How to Download Books: simply right-click on the book images or the DOWNLOAD links and save the PDF files to your computer.
Spanish Evangelical Resources
5416 La Charette Dr.
Jefferson City
MO 65109
www.recursos-evangelicos.org
Printed by: TECNIMPRESOS, Guatemala City, Guatemala
© Copyright 2000, by Fred Morris, Manna Publications USA, Inc.
All rights reserved. Used with permission.