En español
Ephesians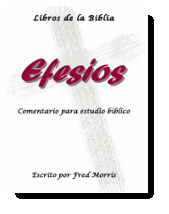 This study guide and commentary on Ephesians is about the apostle Paul's letter to the church at Ephesus. You can benefit from the doctrinal teaching Paul gave this group of believers.
Whether you study this book for your own benefit, or teach it to a group of others, it will help you to know of the blessings believers can have in Christ. You can have these blessings right now in this life. You do not have to earn them, or wait to arrive in Heaven to receive them.
It tells you how it is your simple faith and trust in Jesus that saves you from an eternity in hell. This book helps you learn how much greater Jesus Christ is than your biggest problems.
We have to resist temptation and be spiritually on guard against Satan. Ephesians teaches that God provides us with sufficient armor to resist and defeat Satan. There is a good study of that spiritual armour you can wear all the time.
In Ephesians we learn too, how to care and pray for others. It teaches us about family relationships, both with our earthly family and our wonderful family in Christ, the Church.
As you study Ephesians with this guide book you learn why you should live differently now. It is God's will for us, and by His grace we can be different!
You will learn that you are a child of light, and how to live like it. You will learn to love God's Word in Ephesians if you study it earnestly.
When you disagree with a commentary, remember that God's Word, the Bible, supercedes any and all other commentaries.
See the Bible Commentaries index page for more about the physical appearance of these commentaries, and how to download and use them.